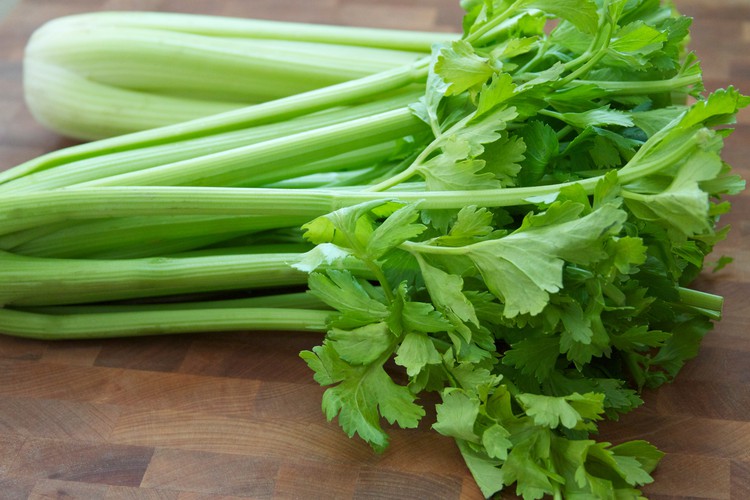 Celery juice's popularity has gone crazy because of Anthony William of Medical Medium touting its benefits.
Bad news for celery prices, but great news for juicing!
It may be hard to get behind some of Medical Medium's reasons to drink it, but however you look at it, celery juice is great for you.
Most people hate celery juice when they first drink it, but you'll find as you drink more and more, your taste buds will change for the better and you'll find it to be more refreshing.
Stomaching Celery Juice
If you're new to celery, you may find it tough to drink. We've been drinking it for years and we agree, it's weird.
If you want to start off easy, add an orange (peeled) and 4 celery stalks to see where you are.
Try these recipes
You'll find plenty of recipes with a lot of celery in them near the bottom of this article.
What's a celery 'stalk'?
A celery stalk is the single piece that you break off of a bunch.
A celery bunch is made up of 8 or 9 stalks.
A stalk is also known as a rib.
Choosing Celery
Good
Firm
Tightly packed stalks that are medium thickness
Bright pale green in color
Avoid
Wilted leaves
Rubbery, bendy stalks
Brown spots
Juice Prep
Rinse each celery stalk thoroughly under running water since dirt and debris like to hide in between those tightly packed stalks.
In a high RPM or centrifugal juicer, whole celery stalks can be fed directly into the chute of your juicer.
If you're using a slower RPM or masticating juicer, we recommend chopping the stalks into quarters rather than pressing the entire stalk into the chute. This method helps prevent stringy bits from wrapping around the auger and clogging it up.
Can I juice the leaves?
Yes!
Celery leaves are completely safe to consume and are full of intense celery flavor. We never let these nutritionally dense greens go to waste.