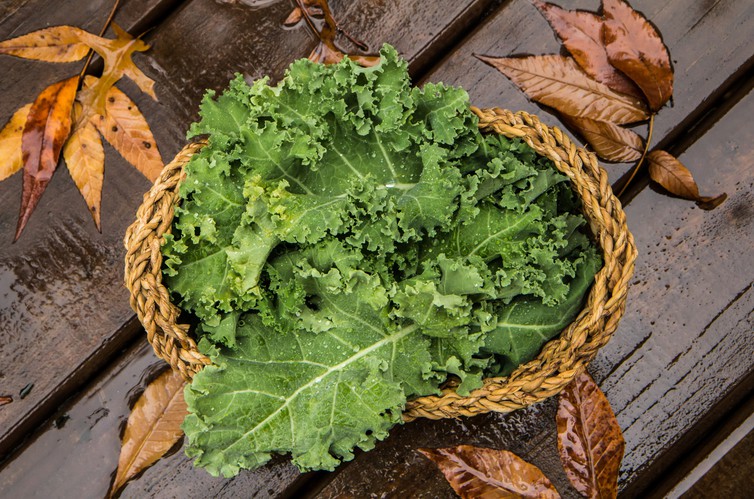 Kale was definitely the most popular ingredient in 2014 when the juicing craze happened. I believe it was Joe Cross (and his documentary Fat Sick & Nearly Dead) that made it so popular.
It's one of the most nutrient dense ingredients, and because we're juicing it, we end up turning it into a delicious nutrient dense drink.
Kale is naturally pretty bitter on its own, but ends up playing really well with lemon + ginger.
Choosing Kale
Good
Avoid
Wilted
Blemishes
Yellowed or brown leaves
Juice Prep
Depending on the type of juicer you have, you may want to avoid chopping it. Centrifuge juicers do a lot better with kale when it's not chopped because it's still a bit more rigid and gives the teeth something to grab onto and shred instead of just grabbing the small chopped bits and throwing it into the pulp bin.
Centrifuge (fast spinning) Juicer
Rinse well under cold water.
Don't chop, just feed directly into your juicer.
Masticating (slow spinning) Juicer
Rinse well under cold water.
(optional) Chop into smaller (2" or so) pieces.
Feed into juicer.
The masticating juicer likes to work with smaller pieces, but you can just feed in the whole thing. Experiment with it and see how your juicer likes it.
Storing Kale
Refrigerator (recommended)
To lengthen the life of your kale, wrap the unwashed kale in a damp paper towel, then put into a plastic storage bag, and store it in your refrigerator. This is the method we usually use because we do our best to go through our kale before it goes bad.
Freezing
We don't recommend freezing your kale if you can avoid it because it's tougher to work with when you have to thaw your kale out prior to juicing.
There's 2 ways of doing this. Either you freeze it and it'll keep for 4-6 weeks, or you blanch it (boil it) before you freeze it to store it long-term (8-12 months). Even though kale freezes well, it develops a bitter taste if you don't blanch it first.
Blanching Method (8-12 months)
Rinse under cool water.
Separate the stems and leaves.
Place in boiling water, covered, for 2 minutes.
Remove with a strainer and put into an ice bath quickly to stop the cooking process for 2 minutes.
Take out, and squeeze out moister with a paper towel.
Lay out kale onto a baking sheet and put into freezer until frozen.
After your kale freezes, take out and place them into a freezer bag and remove as much air as possible.
Seal and store in freezer.