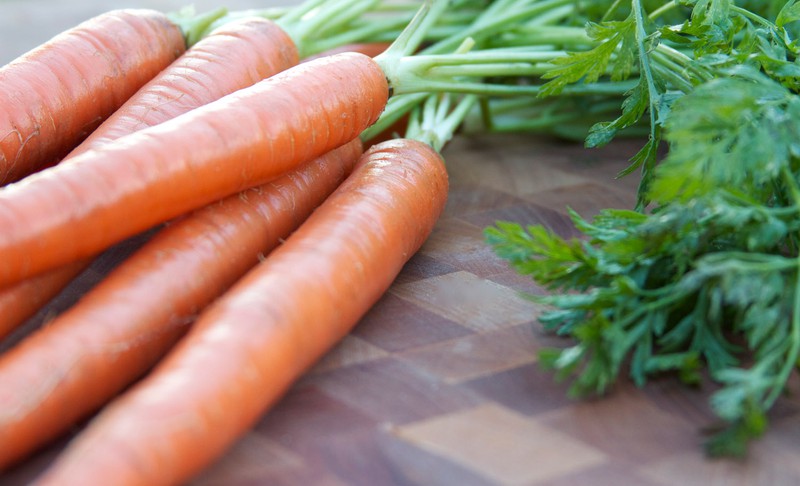 Carrots are one of those vegetables that are a staple in the juicer household. They can be found easily at most grocery stores in the U.S. and are one of the most budget-friendly juicing ingredients available today. If you want a lot of bang for your buck, carrots are the perfect juicing ingredient.
Carrots are nutrient-dense, containing loads of beta-carotene, vitamin A and antioxidants. They're naturally sweet, so they make a great addition to most juice recipes, although if you juice your carrots with a lot of greens, it'll likely turn brown in color. Don't fret. Your juice will still taste delicious.
Feeling adventurous? Try juicing some purple carrots. They won't yield as sweet of a flavor as orange ones, but these unique and beautiful carrots contain high amounts of anthocyanins that belong to the family of powerful antioxidants found in purple fruits and vegetables.
Choosing Carrots
Good
Bright Orange Color
Firm Texture
Avoid
Limp or Rubbery in texture
Black Tops and/or Mold
Can you juice the tops?
Yes.
Carrot tops (or greens) are not poisonous, and, in fact, are highly nutritious. They can be consumed raw or cooked, and contain an herbaceous flavor. Juice away.
Do carrots need to be peeled before juicing?
Nope.
Carrots don't require peeling before you juice them. We scrub our carrots with a good quality vegetable brush to remove excess dirt and debris before running them through the juicer.
If we purchase bagged carrots, we prefer to slice the very tops off as they contain more difficult to remove dirt/debris, and can harbor mold more easily.
Juice Prep
Scrub carrots under running water to wash and remove dirt/debris.
Cut off any black or moldy tops.