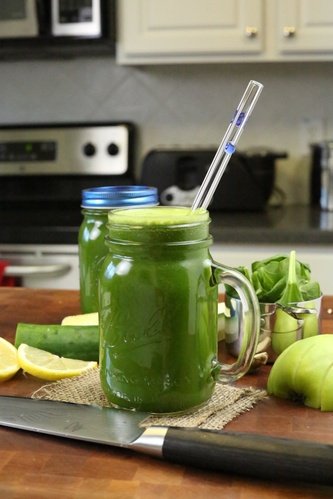 Here's the hard to find recipe! Dr. Oz says he drinks this every morning, and so does Oprah. After Oprah tried this on the show, she was surprised how good it tasted, calling it a "glass of fresh!"
If you're here and you're new to juicing, you may find that this tastes a bit "earthy" because your taste buds may not be used to this whole thing. If that's the case, just add an extra apple or two to sweeten it up.
You can blend this recipe too, but I imagine you'll want to peel the lemon, lime, and ginger.
Apples

2 medium (3" dia)

364g

Cucumber

1 cucumber (8-1/4")

301g

Celery

3 stalk, large (11"-12" long)

192g

Lime (with rind)

1 fruit (2" dia)

67g

Lemon (with rind)

1/2 fruit (2-3/8" dia)

42g

Ginger Root

1/2 thumb tip (1" dia)

12g
Directions
Process all ingredients in a juicer, shake or stir and serve.
Ratings
{$ total_ratings $}
total
User Reviews
{$ totalItems $}