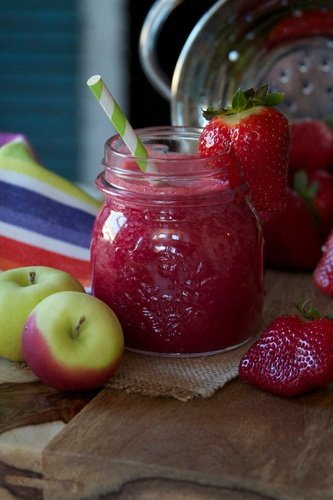 A case of fresh strawberries from a farmer's market inspired this new creation in the kitchen. I loved it so much, I made it every day for weeks!
Loaded with vitamins and minerals, this recipe tantalizes the taste buds while building your immune system.
Apples

2 medium (3" dia)

364g

Beet Root

1 beet (3" dia)

175g

Celery

1 stalk, medium (7-1/2" - 8" long)

40g

Cucumber

1/2 cucumber (8-1/4")

150.5g

Lemon

1/2 fruit (2-3/8" dia)

42g

Orange

1 large (3-1/16" dia)

184g

Strawberries

1.5 cup, whole

216g
Directions
Process all ingredients in a juicer, shake or stir and serve.
Ratings
{$ total_ratings $}
total
User Reviews
{$ totalItems $}
Juiced
Nutrition Facts (Juiced)
Calories

334


Calories from Fat 18.77
% Daily Value *
Total Fat

2.09

g
5.97%
Saturated Fat

0.299

g
1.49%
Monounsaturated Fat 0.202g
Polyunsaturated Fat 0.84g
Cholesterol

0

mg
Sodium

297

mg
19.80%
Potassium 2319mg
49.34%
Total Carbohydrate

104.08

g
80.06%
Dietary Fiber

3.5

g
9.21%
Sugars

68.22

g
Protein

8.32

g
Vitamin A 2146µg
238.44%
Vitamin C 179.7mg
199.67%
Calcium 228mg
22.80%
Iron 3.28mg
41.00%
* The Percent Daily Values are based on a 2,000 calorie diet, so your values may change depending on your calorie needs. The values here may not be 100% accurate because the recipes have not been professionally evaluated nor have they been evaluated by the U.S. FDA.
Vitamins
Choline 66.6mg
12.11%
Folate 204µg
51.00%
Niacin 4.267mg
26.67%
Riboflavin 0.399mg
30.69%
Thiamin 0.33mg
27.50%
Vitamin B-12 0µg
Vitamin B-6 0.764mg
58.77%
Vitamin D 0IU
Vitamin E 2.98mg
19.87%
Vitamin K 67.5µg
56.25%
Minerals
Copper 0.464mg
51.56%
Magnesium 97mg
23.10%
Phosphorus 254mg
36.29%
Selenium 2.9µg
5.27%
Zinc 1.69mg
15.36%
Other
Caffeine 0mg
Theobromine 0mg
Water 1226.5g
Solid
Nutrition Facts (Solid)
Calories 611
Calories from Fat 27.21
% Daily Value *
Total Fat 3.02g
8.63%
Saturated Fat 0.433g
2.17%
Monounsaturated Fat 0.293g
Polyunsaturated Fat 1.217g
Cholesterol 0mg
Sodium 431mg
28.73%
Potassium 3176mg
67.57%
Total Carbohydrate 150.84g
116.03%
Dietary Fiber 35.2g
92.63%
Sugars 98.86g
Protein 12.06g
Vitamin A 3110µg
345.56%
Vitamin C 299.5mg
332.78%
Calcium 330mg
33.00%
Iron 4.76mg
59.50%
* The Percent Daily Values are based on a 2,000 calorie diet, so your values may change depending on your calorie needs. The values here may not be 100% accurate because the recipes have not been professionally evaluated nor have they been evaluated by the U.S. FDA.
Vitamins
Choline 96.5mg
17.55%
Folate 408µg
102.00%
Niacin 6.184mg
38.65%
Riboflavin 0.579mg
44.54%
Thiamin 0.635mg
52.92%
Vitamin B-12 0µg
Vitamin B-6 1.107mg
85.15%
Vitamin D 0IU
Vitamin E 4.31mg
28.73%
Vitamin K 97.8µg
81.50%
Minerals
Copper 0.672mg
74.67%
Magnesium 176mg
41.90%
Phosphorus 368mg
52.57%
Selenium 4.2µg
7.64%
Zinc 2.45mg
22.27%
Other
Caffeine 0mg
Theobromine 0mg
Water 1362.78g