Attention:
The All-in-One
Juicing Weight Loss Program
By A Real Expert
Learn the Juicing for Weight Loss Secrets of a Mother of 3 Who Survived Lupus and Cancer:
Are you feeling tired, discouraged and heavier than you were a year ago?
Have you suffered a breakup or a loss and found yourself turning to unhealthy food for comfort?
Do you reward yourself with food or punish yourself by depriving yourself of food, only to binge later?
Do you buy cute clothes for your daughters or grandchildren, living vicariously through them when you could be shopping TOGETHER for cute clothes for BOTH of you?
Do you feel sick, sluggish and weary of waking up in the same discouraged place every day?
---
The Problem I Never Knew Existed
---
Hi, I'm Tracee, the site's Juicing Expert, and I apologize if this comes across as mean, but I'm fed up with all of the "experts" spreading mis-informed guidance on how to get healthy and lose weight when they don't know the first thing about it!
When you're older like me, you want to roll your eyes at the "tips and tricks" of the "experts" to get rid of "belly fat".
Many people try to sell pills or special teas that they claim will magically cause weight loss. That's wrong!
Long-term, there is NOT a pill that is going to help you lose weight without diet and exercise.
I've answered thousands of emails (you may be one of them), and there's one thing that's common among all of you - you've been misguided by an "expert" or a blog and you're begging for an "all-in-one" guide on juicing for weight loss from a real juicing expert.
All you hear is,"start a juice cleanse", or just "drink juice", but do you know how much juice to drink daily? What about what to do at the end of your juice cleanse? No one tells you these things because they don't know, or worse... they give you the wrong answer.
It's not your fault! I know you're trying to lose weight by juicing and it's not easy to find the right way to do it.
I've been in the same situation where you are now. I had many questions and no answers. That was over 14 years ago.
Now, with the knowledge and experience needed to answer your questions, I created exactly what you have asked us to create:
Guidance you need to lose weight with juicing.


A full plan to accelerate your weight loss and keep it off.
---
I Created an "All-In-One" Juicing for Weight Loss Guide!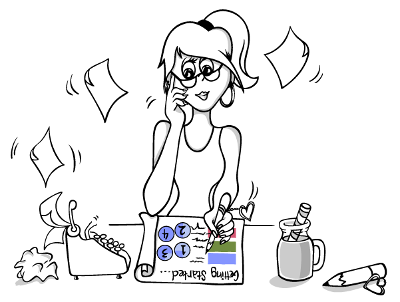 I Created an "All-In-One" Juicing for Weight Loss Guide!
Night after night, I would spend hours answering questions through emails and I wrote down every question, concern, issue, and pain that you had while trying to lose weight with juicing.
My first thought was to include it all in my blog, but I quickly realized I needed a custom solution to help teach you how to lose weight with juicing, so... I created a juicing for weight loss program for people who are looking to lose weight with juicing the right way without wasting time!
I promise you, I wouldn't have created this guide if I didn't think it was needed. It hurts to see so many struggling and scavenging for knowledge just as I was at one point.
---
Can't say we didn't warn you
Juicing is an important part of the weight loss program, but if you're expecting to sit and drink juice just once a week, this isn't for you.
If you feel unhealthy and overweight, and you think this program will magically solve either of those things without any effort on your part, it won't. This weight loss program is for people who are ready to actively do something about their weight.
---
---
Over a Year in Development
---
I wanted to be hands on with the development of my weight loss program so that we could make the program very special.
It was not just thrown together in a few weeks like other juicing programs.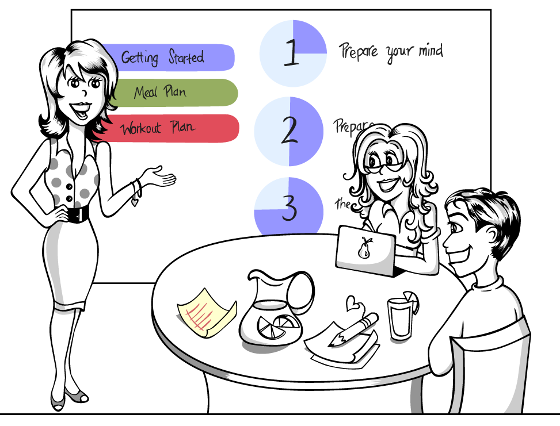 All of the features in the program were developed over several months as I worked directly with the Juice Recipes development team to create a program that would address your needs and desires.
Everything you'll find in the program is what I learned after years of spending thousands of dollars trying to figure it out for myself (when I was overweight in my 30's and killing myself in order to make sure I didn't "let myself go").
It's also what I still do today as I near 50 years old!
---
Designed Not to Overwhelm ...whew!
My weight loss program is planned out over 4 stages to make sure you don't get overwhelmed in the first week and, "burn out".
We only introduce a few new things into your life at each stage. You move to each new stage when you're ready.
Stage 1: Starting Off Right
You'll first start off right by adding a few simple, but powerful healthy habits to your life.
I'll tell you how much you should be juicing along with providing mandatory reading to educate you on the reasons why I'm telling you what I'm advising you to do.
Stage 2: Start a Juice Cleanse (optional)
This step is completely optional, as some people don't want to do a juice cleanse. However, for those that do, I give you plenty of reading on how to do a proper juice cleanse, along with how to properly end a juice cleanse.
Stage 3: Start a Healthy Meal Plan
In this stage, you'll start a healthy meal plan. Weight loss isn't about starving yourself, it's about getting the healthy nutrients your body needs.
Stage 4: Start the Workout Plan
I guide you through three different, but, very simple workout plans depending on what kind of equipment you are able to access (if any!). There's a workout plan for every person, even if you only have a floor.
---
Why This Will Work for You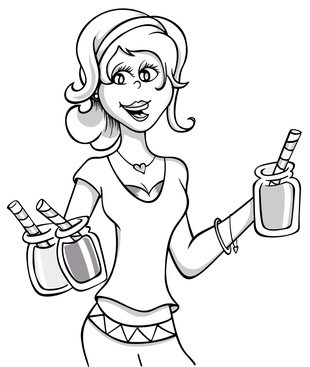 Let me easily explain how healthy nutrients (JUICE!) can enhance your current lifestyle...
If you're not familiar with our 30 day juice challenge, you NEED to make yourself familiar with it.
The challenge is to drink 1 glass of juice a day.
However, it's not a juice cleanse and
Here's the crazy thing about it...
By the time people are done with the 30 day juice challenge, they've lost up to 15 pounds by simply adding 1 glass of juice to their normal daily routine.
If juicing once a day can produce those AMAZING results, imagine slowly adding these activities to your life as well:
Staying hydrated and adding more juice to your daily diet
Eating healthier meals
Working out
THEN how quickly would you lose weight?
Well, this is exactly how my program works.
One step at a time is laid out for you. You're told what you need to know before you begin each step, and you accelerate your weight loss when you're ready for it.
---
Imagine how you'll feel each morning without that excessive weight while you're looking and feeling healthy!
Let me tell you from my experience... it's like an entirely new life and I want you to feel like you have a second chance when you're living the "Juicing" lifestyle with me.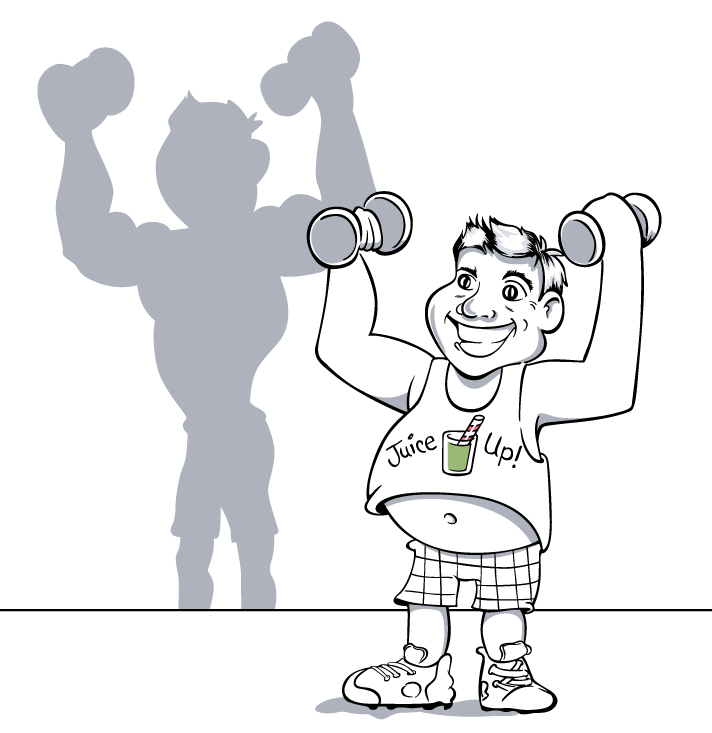 ---
Why Should You Listen to Me?
---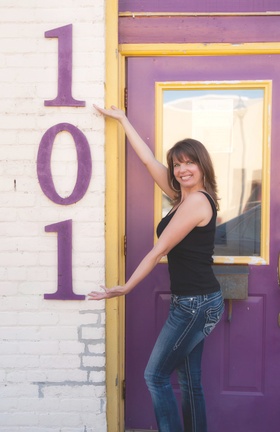 I imagine this is a question you've been asking yourself if you don't know who I am. Let me tell you a little bit about myself.
JuiceRecipes.com chose me to be their sole juicing expert because of my history. I was diagnosed with, lupus, an incurable disease, and cancer in 1999. Fortunately, I discovered juicing in 1999 because I was dropped from my health insurance after those diagnoses. Left with very few options, I put all of my hopes into juicing and herbs.
I know you're not visiting this website to hear my life story, but, 17 years after getting diagnosed with Cancer and Lupus, I'm alive and feeling better than I did when I was in my 30s! When you're told you're going to die, you want to fight it every way imaginable and I truly believe that juicing is a huge reason why I am sharing my life with you today.
Years after the diagnosis, my doctor informed me that there's no more trace of lupus or cancer.
I had managed to beat the "incurable" lupus.
I now have a different perspective on life and I treat every day as my "second chance".
I use this blessing to help people receive a "second chance" themselves at living a healthy life and improving their self-esteem.
As you can imagine, I'm a bit obsessed about juicing after that initial experience.
However, that was just the first time juicing changed my life.
Years after beating cancer and lupus, I started struggling with my weight (at age 36, I'm 48 now) or as I like to refer to it, "the magical time where my metabolism decided to slow down". Don't you just love that time period (sarcasm noted)?
I quickly gained 30lbs within a few months and because I decided I wasn't going to "let myself go", I worked out 5 days a week for two years!
Nonetheless, after all of the hard work, I was still 30lbs overweight, but I kept doing it because I told myself "hey, at least I'm not gaining weight".
One year into heavily working out, I was still overweight and didn't like what I saw in the mirror. I went through a handful of personal trainers trying to lose the weight, but it wasn't having any impact. I was filled with frustration and felt like I was literally just lighting my hard earned money on fire.
Looking back on it, I can see that the reason why I was just maintaining my weight was because I didn't know how to get that extra "oomph" needed to lose the weight.
Turns out, I was only doing a few things wrong.
My personal trainer reminded me that I needed to kick my juicing into high gear just as I did when I was fighting my disease.
That was the wake up call I needed.
I subsequently lost the 30lbs and my trainer told me that he had never seen someone lose fat so fast! The key points that I've learned over the last 10 years are exactly what I teach you in my weight loss program and it's what I still do today at nearly 50 years old!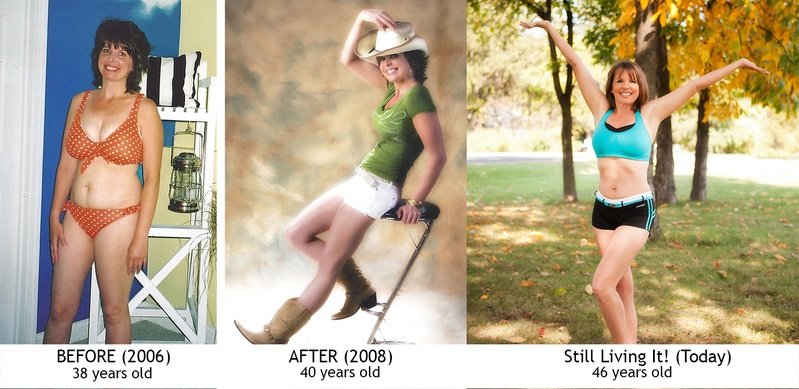 I'm now a certified ISSA Personal Trainer, and I don't believe in weight loss pills or any of that non-sense.
I believe in healthy nutrition and a healthy lifestyle!
---
How You'll Benefit From My Help
You'll learn everything you need.
I will provide the knowledge and motivation you need step-by-step in order for you to complete each new stage in your juicing lifestyle.
You'll learn how to properly perform, and end, a juice cleanse so that you won't feel like you're dying while cleansing.
I'll tell you what to eat so that you'll get even more healthy nutrients into your body.
I'll teach you how to workout (with animated videos!) so that when you step in the gym or living room you will know exactly what to do in order to accelerate your weight loss.
---
---
Everything You Get in the Weight Loss Program
---
A Step-by-Step Guide
A Step-by-Step Guide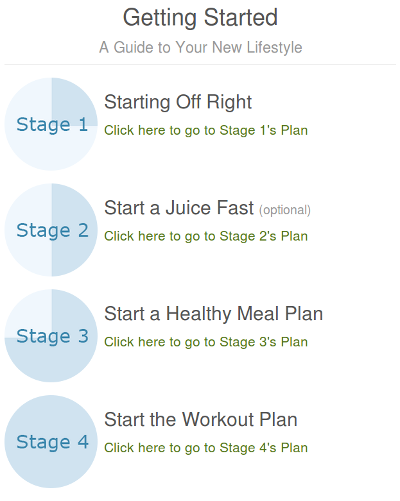 This is a preview of the "getting started" guide that will help you through every step in the program.
It's important to start moving in the right direction ASAP.
Begin the process slowly, and know what to do every step of the way. Otherwise you'll find yourself overwhelmed and back to your old lifestyle by week 2.
That's why I've created a step-by-step guide that's split into 4 stages. This will help ease you into your new lifestyle so that it sticks.
I'll be telling you what you need to know and educating you on why you're doing it. In addition, our interactive program will hold you accountable so that you will actually do everything you are instructed to do.
Each stage will add new and healthy additions to your lifestyle that will carry over to each subsequent stage. By the time you start stage 4, the training wheels are off and your new lifestyle is in full-swing!
---
Progress Tracker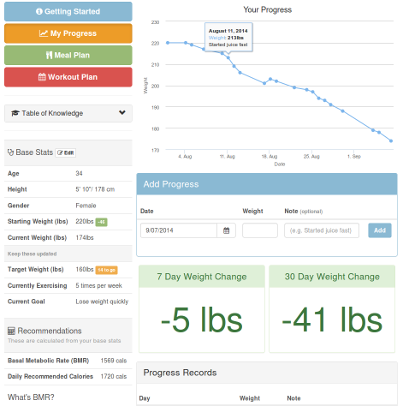 [Click image for bigger preview]
Track your weight loss with an easy to use, fully interactive, progress tracker!
It'll start by asking you a few simple questions.
Then, the automated, and interactive, tracker will calculate your BMR for you (don't worry, I explain what that is).
It will even recommend your daily calorie intake.
As you progress through the program, you'll be able to add your daily weight, along with any personal notes you want to record as well.
This will allow you to keep track of the effects that your positive lifestyle changes are having on you (i.e. losing 30lbs in a month like me!). I know it's important to see your progress as well as feel it.
---
Meal Plan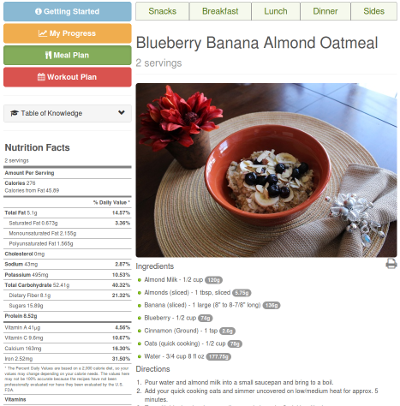 Incorporating a healthy meal plan into your life is difficult when you don't know what to make. I'll encourage you to break unhealthy eating habits while supplying you with over 50 different healthy and "safe" recipe choices.
All of the recipes are broken down by snacks, breakfast, lunch, dinner & sides, and sorted by calories per serving so you'll know what to make for each meal in your day.
Also, each one has the full nutrition facts displayed so you know exactly what's in them.
---
Workout Plan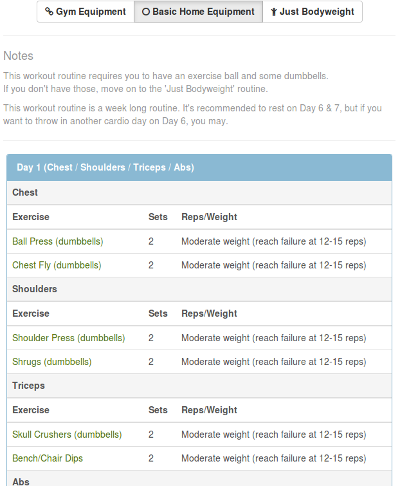 When I tell you to start a workout plan, I won't leave you to fend for yourself. In my workout plan, you'll have your choice between 3 different weekly workout routines on the workout equipment that you are able to access:
Gym Equipment
Basic Home Equipment
Bodyweight (i.e. yourself and your floor. )
I know you may not have a gym membership, a home gym, or even have any dumbbells lying around. That's why I made sure there's a workout for whatever options are available to you.
Also, I made the workout routines as easy and fun as possible, while making sure each day is different in order to be sure that you don't get bored.
---
Detailed Exercises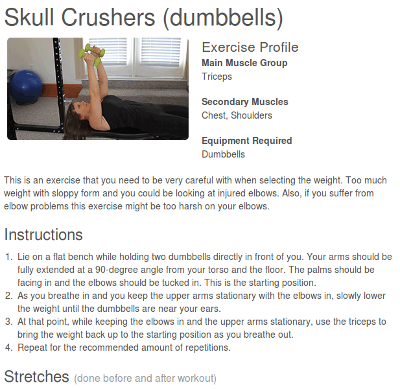 Each and every single exercise in the workout plan will have a detailed page on how to perform the exercise with proper form, and you'll even see a video of me doing each one.
Don't like a specific exercise?
Have an injury and you need something a bit tamer?
Or are you advanced and need more of a challenge?
I supply you with variations of each exercise. That way you can pick and choose what you want to do. Most exercises even come with a recommended stretch to do before and after so you don't pull anything. Safety first!
---
All of the Education Needed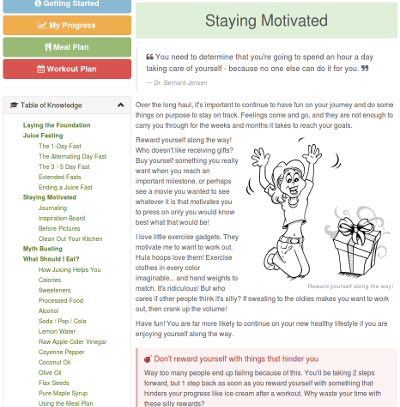 If you feel like you don't know the first thing about weight loss or wonder why you're doing specific things within the program, I explain every detail about your new lifestyle in a 50-page guide called the, "Table of Knowledge".
This guide is always within a click's reach on any page of the weight loss program.
I know it's really motivating to know how things affect your body and why you're doing them.
I also make sure you read specific portions of this guide before I have you do anything related to it, Then, you'll always know what you're doing.
---
Works on All Devices!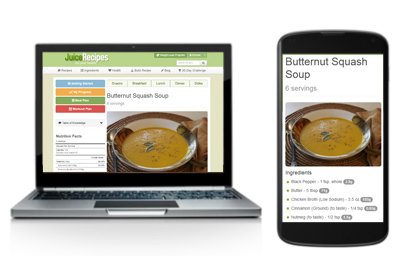 I know the importance of having the ability to bring your meal recipes into the kitchen with you or having your workout plan within reach while you workout. That's why I made sure the entire course is mobile-friendly.
Whether it's your PC/Mac, tablet, or mobile phone, each one has a custom layout and looks beautiful.
---
Juice Cleanse Plan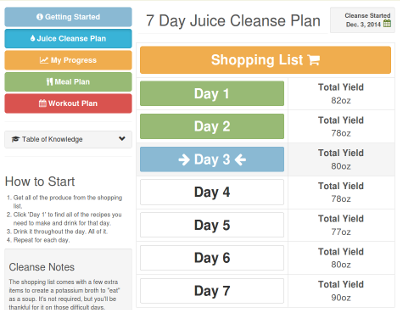 If you've ever attempted a juice cleanse, you know that it involves a lot of planning in terms of both time and money.
I've heard of people overspending on their produce by as much $70 (or as much as the cost of this program, which means this program pays for itself with just this section alone).
You will not have to worry about these issues with this program because it's already done for you. You're provided shopping list(s) and a breakdown of the specific recipes to make for each day. There is no guessing involved, just doing.
Plans Available in the Program:
1 Day Juice Cleanse
3 Day Juice Cleanse
7 Day Juice Cleanse
28 Day Juice Cleanse
---
EXTRA BONUS
Order today and gain the ability to save an unlimited amount of custom recipes in the recipe builder!
(Normally limited to just 7)
---
How much is your health worth to you?
---
Question: If you went to a nutritionist or a personal trainer and asked them to give you a weight loss plan, how much would they charge?
Answer: Probably somewhere between $67-150 an hour, depending on where you live (and that doesn't include the follow-up visits).
You can't really put a price on your health so it is definitely worth it, but I also understand it's difficult to afford for most people. My goal with this program is to make sure anyone who is serious about taking control of his or her health is able afford the program.
It took me years to structure the ultimate healthy lifestyle and I've spent thousands of dollars on expert advice and books to get to this point.
I've compiled every thing I know regarding juicing and living a healthy lifestyle into this program.
When I first started showing my weight loss program to people, they assumed I was charging 2x to 4x more than what I was planning to charge for it.
After all, there are other programs in the marketplace that charge higher amounts and they don't offer nearly as much value and content as my program.
My program has quality features that took us months to develop (not days or weeks).
My weight loss program's price is based on your needs, not just the content and features within it. That's the way I wanted it, and I'm sure you'll appreciate it.
---
---
Since this program is still relatively new, I'm seeking to get as many beta-testers as possible to:
Use the program.
Get into the best shape of their lives.
Give me more testimonials to use for my future marketing ventures with the program.
For these reasons, I wanted to make the program as affordable as possible for every potential user in order to get as many users as possible...
Therefore, I'm offering the entire program for $97, or about HALF the price of competitors. With the sale going on right now, the price goes down even further to $48.50!
---
30-Day Money Back Guarantee!
No Risk! No Tricks!
I'm not here to trick you into buying my program. If you don't like it for any reason within 30 days, you'll get a full refund! No risk to you. Easily refund your program. View our Refund Policy.
I love happy users!
---
Order the Weight Loss Program Right Now!
Start Your Order Now
Step 1: Account Creation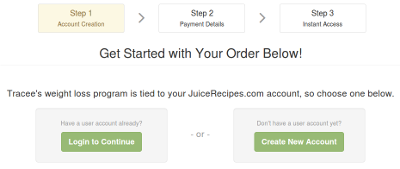 Step 2: Payment Details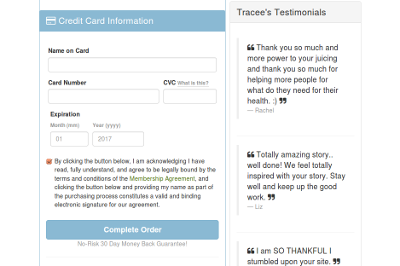 ---
Listen, you have one life to live.
I tried and failed many times over the span of several years before I even began to figure out what worked for me.
With my program, you will not only have lifetime access to all of my knowledge on how to get healthy and lose weight with juicing, but also on how to maintain a healthy lifestyle for the rest of your life.
I fought for my life, and my health, and I won. Now I'm giving you the tools that I used to claim those victories so that you will be able to regain your health and the quality of life that you deserve.
Juicing, healthy eating and thoughts, and exercise are going to save you thousands of dollars in the long run (money that you would have spent on prescriptions, medical bills, and junk food that is making you sick and overweight in the first place)!
Not to mention these positive lifestyle changes will add quality and quantity to your life!
Here's your opportunity for a new life. If you don't start today, you're going to wake up one day soon and imagine what you would have looked and felt like if you would have taken action today.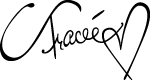 Tracee Sloan
Certified Personal Trainer
---
Remember What You Get!
A 4-stage guide that eases you into a healthy lifestyle. Starting slowly, I tell you everything you need to know regarding how to create your healthy lifestyle. Then I'll hold you accountable to make sure you to do it.
A massive database of knowledge about how to live a healthy lifestyle with illustrations drawn by me.
Juice cleanses that are all figured out for you. Choose between a 1, 3, 7, or 28 day juice cleanse.
Easy to pick from meal recipes + FULL nutrition of each serving and a beautiful photo of the recipe for each and every one.
A workout plan that works for you + detailed how-to examples + recommended stretches. Designed to be completely newbie friendly!
A progress page that allows you to record your weight loss to truly see what your lifestyle changes are doing for you. Fun to look at and does the math for you!
If you buy now, you'll be locked into any extra weight loss program features that we develop in the future.
---
Don't just take our word for it... Check out what other users have to say...
Hi Tracee,

I subscribed to your weight loss program and I'm doing your 28 day juice cleanse and loving it. I'm so happy with the rapid, positive changes I'm seeing and how my body is responding to the cleanse. I have lost about 10lbs since the beginning of the year. And I have a long way to go. I'm hoping this jump start inspires me to keep going.

The biggest thing I noticed within about 3 days of starting the cleanse is that my joints don't ache so much. I know I had a lot of inflammation. My fingers ached a lot and knees and hips, but now it's much much less. The other thing I've started checking is my BP. Honestly, I was scared to take it before I started. I know it was rarely if ever under 140/90 with a heart rate in the upper 80s or even low 90's. I just took it this evening and it was 128/77 with a heart rate of 71. Pretty dramatic results in a short time frame.

I'm finding the cleanse remarkably easy to follow. The juices taste great and are filling and satisfying. I also made the potassium broth and have that when I want something hot. I'm convinced I need to incorporate juicing into my everyday life.

Martha
I love your program! We started juicing about two years ago, mainly so our sons would get their fruits and veggies, but we only drinking one a day - maybe. Both my husband and I are now juicing all day and we both feel great! In addition to weight loss, we both agree that we are also able to think more clearly, don't get the afternoon slumps, and our mental attitude is so much more positive. I don't look at this as a "diet" but as a way of life. We eat healthy meals and, yes, I do indulge in the dessert still occasionally, but not like I used to. I have been coffee free for over a month and don't even notice – except now the taste of coffee is disgusting to me. And amazingly, I don't have to take as much allergy medicine! ...Before juicing, I was taking allergy medicine both in the morning and evening, as well as an inhaler. I would start wheezing if I would forget to take the evening dose, but I haven't taken the evening dose for about a week now and can't tell the difference. I never expected that but am thrilled! I LOVE JUICING! Thank you for all your information and positive attitude!!! Sharon & Brad Baylor
I have been a lifetime member for quite some time and using your weight loss program to help me lose the 70 lbs. to date!!! Yeah! Lisa
Day 27 lost 20 pounds and have more energy than ever Esther

Thank you for creating this program. I've been wishing for something like this!! Candace
really enjoy you site. we started out with the 30 day challenge some months ago. didn't have any idea how to start. visited several sites , none compare to what you offer. haven't commented on here before, or any site for that matter, but as much as we "use" your services, thought i'd take the time and brag on you. Jerry
Thank you so much for helping more people do what they need for their health. :) Rachel
I am SO THANKFUL I stumbled upon your site. Rebecca
Frequently Asked Questions
Is this a physical product? Will I get something in the mail?

Answer: No

You're purchasing access to a digital product that's tied to your user account on JuiceRecipes.com.
Is this just a one time fee?

Answer: Yes

It's just a single fee to get access to all the features we display above.
Is this program for guys or girls?

Answer: Both!

I may mention some women related items sometimes, but don't worry guys, I won't have you doing yoga and pilates as your workout.
Does the program support the metric system?

Answer: Yes

The "My Progress" area fully supports both lbs and kgs. Obviously, it's not easy to show both conversions for everything in the program, but, for where it counts, it's supported.
Is there a weight loss program app for my mobile device?

Answer: It's accessible by any web browser (desktop/tablet/mobile), but there isn't an specific app for it.

A lot of work went into making sure the weight loss program worked well on desktop computer as well as mobile devices like tablets/phones. It has a completely custom layout for each, so just visit the site on your mobile device to access it.
Do you supply shopping lists for the recipes?

Answer: It works like any normal recipe site.

We couldn't make a one size fits all recipe plan, so we planned it out so you pick your recipes out just like you would on a normal recipe site. It tells you the ingredient amounts, so you can use that as a shopping list. Recipes are easily printable.
Do you support specific diets (vegan, vegetarian)?

Answer: Yes

We display vegan and vegetarian options in our meals.
I've never worked out before. Is this for me?

Answer: Yes

If everything is ok with your doctor, it's definitely for you. The workout plan is so detailed that I believe you could pick up your first dumbbells and be able to do it. There's a learning curve, but this a great place to start.
If I want to go to a gym, can I bring the weight loss program with me?

Answer: Yes

Everything is print-friendly (just go to File > Print), so you can either bring your phone with you to the gym or print out the instructions and bring the physical copies with you to the gym.