3 Recipes Per Day
You'll be drinking 70-90 fl oz of fresh juice every day.
28 Days
4 unique weeks of fresh juice + water.
4 Shopping Lists
Each week has its own shopping list.
Interactive Challenge
Use our interactive challenge to get your daily recipe emailed to you or complete it through our site.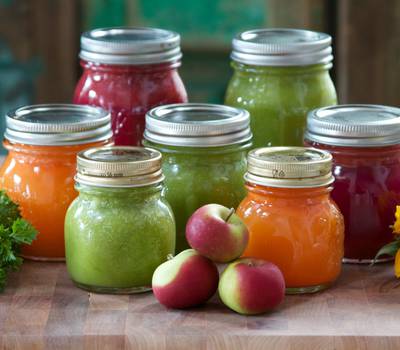 What is the 28 Day Juice Cleanse Challenge?
It's a 28 day juice & water only diet.
Juice cleanses can be a nightmare to plan out recipes and massive shopping lists and always wondering "am I doing this right?" That's why this exists.
Included in our 28 Day Juice Cleanse Challenge
Shopping Lists
Recipe Plan
An Interactive Challenge
Why we made the 28 Day Juice Cleanse Challenge
28 Days, 84 Recipes - High Commitment
Just 7 days wasn't enough for a lot of people. Some had a lot of weight to lose and wanted to go on longer juice cleanses without getting bored of the same 7 day plan over and over.
This 28 Day Juice Cleanse Challenge doesn't include seasonal ingredients, so it can be done year-round, and each week is different enough to keep your days feeling interesting.
Since this is our longest cleanse, it's built from the start with ingredients in mind that will help your body get everything it needs. Avocados are strategically included to be blended in some recipes to help you to feel good throughout the 28 days, so a blender is recommended as well as your juicer for this one.
Water is also very important on a juice cleanse, so constant reminders are included to help.
Week 1
7 Days
21 Recipes
Includes Shopping List
Week 2
7 Days
21 Recipes
Includes Shopping List
Week 3
7 Days
21 Recipes
Includes Shopping List
Week 4
7 Days
21 Recipes
Includes Shopping List
Buy the Entire 28 Day Juice Cleanse Challenge & Save

Buy the 28 Day Juice Cleanse Challenge Bundle and Save 38%
Includes All 4 Challenges
28 Day Juice Cleanse: Week 1 ($14.99)
28 Day Juice Cleanse: Week 2 ($14.99)
28 Day Juice Cleanse: Week 3 ($14.99)
28 Day Juice Cleanse: Week 4 ($14.99)
You Pay $59.96 ($37.00)

(Best Value)
28 Day Juice Cleanse Challenge Reviews
(3)
LeonardoB - 14 Dec 2018
- 28 Day Juice Cleanse: Week 3
Its working well , feeling great
LeonardoB - 08 Dec 2018
- 28 Day Juice Cleanse: Week 2
simple way to start with juicing .. very well prepared shopping list and receips