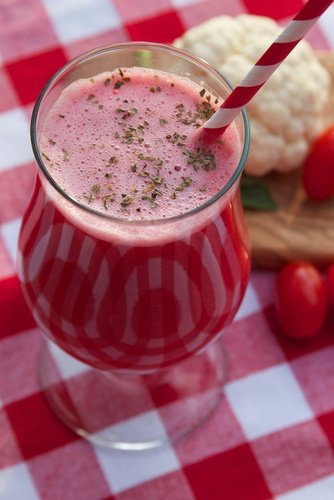 I know, this one is a little weird, but if you ever wanted to drink something that tasted like pizza, here it is.
Some people like this warm, so you can let it sit for an hour before drinking if that sounds like your kind of juice.
(Optional) Add a dash of garlic salt for a little extra flavor
Cucumber

1 cucumber (8-1/4")

301g

Tomatoes

2 cup cherry tomatoes

298g

Cauliflower

1/2 head medium (5-6" dia.)

294g

Onion (spring/scallion)

1 large

25g

Basil (dried)

1 dash, ground

0.17g
Directions
Process all ingredients in a juicer, shake or stir and serve.
Ratings
{$ total_ratings $}
total
User Reviews
{$ totalItems $}