9 Recipes
You'll be drinking 70-90 fl oz of fresh juice per day.
3 Days
3 days of fresh juice + water.
Shopping List
You're given a shopping list for the 3 days.
Interactive Challenge
Use our interactive challenge to get your daily recipe emailed to you or complete it through our site.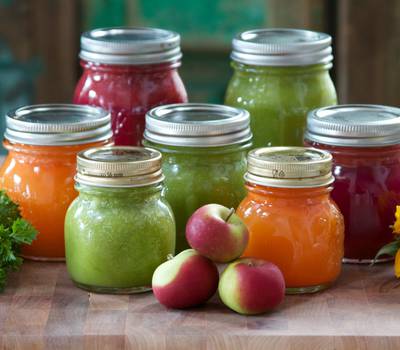 What is the 3 Day Juice Cleanse Challenge?
It's a 3 day juice & water only diet.
Juice cleanses can be a nightmare to plan out recipes and massive shopping lists and always wondering "am I doing this right?" That's why this exists.
Included in our 3 Day Juice Cleanse Challenge
Shopping List
Recipe Plan
An Interactive Challenge
3 Day Juice Cleanse Challenge Reviews
pamwilliamson63
- 30 Apr 2023
The juices were good but it was truly a challenge. The first day was easy but day two was hard. I was so hungry on that second day but I stuck with it.
-
3 Day Juice Cleanse
Lost 4.6lbs
The cleanse was extremely easy to follow and I felt great. Although I'm not a fan of juices with beets, the health benefits made them worth drinking. Drinking lots of water each day helped with having little to no feelings of hunger.
Johnnyhill7
- 16 Dec 2021
Great little detox without too much effort or commitment. I added saltwater flushes each morning for bonus points. Def worth doing.
I got off to a slow start when my juicer died, but when I got my new one, it was easy to follow. This challenge exposed me to a few new recipes I would not have otherwise tried and I never felt hungry. My plans are to incorporate juicing into my daily diet and try to eat healthier.
Love the juice fast, it is good for body snd soul
-
3 Day Juice Cleanse
Lost 4lbs
this is the 3rd time I have done this challenge.. this time I did it supplementing one clean evening meal everyday (fish and steamed veggies) and snacked on fruit when I felt hungry. I saw a higher weight loss and overall felt better than the other two times just doing a juice fast.
caitlinboyce
- 16 Sep 2020
-
3 Day Juice Cleanse
Lost 1kg
Was great!
I have done this challenge before. I usually do it after the add 1 juice a day for a month challenge and feel it really benefits me in the way it makes me want to eat healthily. Out of all the juices, the only one I'm not keen on is the fog cutter. Mine looked nothing like the picture but I must admit it tasted slightly better than it looked. Juicing in general makes me feel energised and good and having tried and tested recipes to follow is fantastic.
-
3 Day Juice Cleanse
Lost 6lbs
I have to say that i liked it very much. It was a little hard juicing and drinking only water but your body adjusts on the second day. I will be juicing everyday now. I feel good and more energy.
I lost 3 lbs with this cleanse and felt the 'Reset' going on in my body! I felt a bit hungry but that's normal considering that I do have a busy work, family and community life. I'm noticing that a week after completing the cleanse, my appetite is better regulated - I'm eating smaller and well-balanced meals and feel less attracted to junk food. I was able to restart my workout routine as well. Hoping to do another 3 day cleanse in about 3 months :)
I never felt hungry, I didn't really like the juices made with red cabbage and beets.
3 day juice cleanse was challenging but nowhere near impossible. Very excited to see I lost 8 pounds doing it. I also slept much better during the challenge. I guess this means goodbye to the nightly cookie snacks.
Enjoyed the 3 day challenge hadn't juiced in quite a long time. Feeling more alive and will be keeping up juicing on regular basis. 🙂
-
3 Day Juice Cleanse
Lost 4lbs
Definitely hard to do but worth it. I feel much better after overdosing on sugar during Holiday season.
I feel awesome. This challenge was the reset I needed to get back in the groove. -3lbs in three days I'LL TAKE THAT!